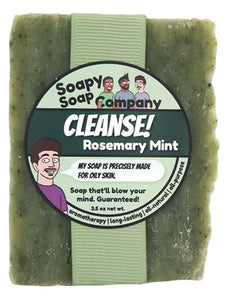 CLEANSE! - Rosemary Mint Bar Soap (vegan, halal)
Doubles as a shampoo bar soap for hair!
 Control an oily complexion while preserving your skin's own natural oils with Anthony's Cleanse! - Rosemary Mint Bar Soap. A customer favorite, this bar soap's dash of organic spirulina gently exfoliates, and its earthy, piney blend of rosemary and peppermint essential oils nicely stimulates the senses.
Cleanse! - Rosemary Mint Bar Soap's top notes are herbaceous and green with a subtle mint finish.
 100% Vegan and Halal.
 Aromatherapy | Long-lasting | All-natural | All-purpose
 Each bar is at least 3.5 ounces.
Directions: Wet, lather, rinse. Repeat as necessary.
 Ingredients: Water (Aqua), Organic sustainable palm (Elaeis guineensis) oil, Organic coconut (Cocos nucifera) oil, Olive (Olea europaea) oil, Sodium hydroxide (lye), USP castor (Ricinus communis) oil, Almond (Prunus dulcis) oil, Stearic acid (plant-based), Peppermint (Mentha piperita) essential oil, Rosemary (Rosmarinus officinalis) essential oil, Organic spirulina (Arthrospira platensis) powder.