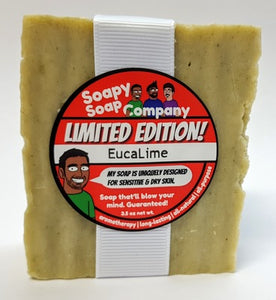 Limited Edition - Moisturize! - EucaLime Bar Soap (vegan, halal)
Developed for dry and sensitive skin types, Mohammed M.'s Limited Edition - EucaLime made with our Moisturize! soap base is a refreshing blend of Eucalyptus and Lime essential oils, with a pinch of green spirulina powder. This gentle formula is a brisk mix of skin-saturating olive oil and fresh Eucalyptus and Lime essential oils.
 Available while supplies last.
100% Vegan and Halal.
 Aromatherapy | Long-lasting | All-natural | All-purpose
Each bar is at least 3.5 ounces.
 Directions: Wet, lather, rinse. Repeat as necessary.
Heads-Up! Mohammed M. carefully formulated his Moisturize! soaps to be extra hydrating. Because they're made with pure olive oil, they are very soft, and prolonged submersion in water can cause Moisturize! bars to liquefy. To make sure your soap lasts as long as possible, use a soap saver to enable proper drainage and drying between uses. (To further extend the life of your soap, you might also store it outside of the shower or bathtub.)
Ingredients: Olive (Olea europaea) oil, Water (Aqua), Sodium hydroxide (lye), Peppermint (Mentha piperita) essential oil, Spearmint (Mentha spicata) essential oil.