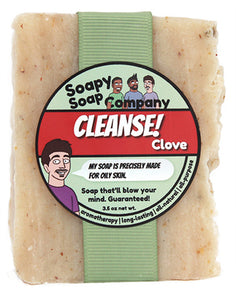 CLEANSE! - Clove Bar Soap (vegan, halal)
Doubles as a shampoo bar soap for hair!
Spice up bathtime and tame oily skin with Anthony's Cleanse! - Clove Bar Soap. Precisely made for oily skin types, this rich, lathery formula is deep-cleaning, mildly exfoliating, and gentle enough for everyday use.
 A heady blend of clove and cardamom, Cleanse! - Clove Bar Soap carefully balances spicy and sweet. A slightly smoky scent smolders in the background, conjuring thoughts of late summer's golden slide into fall.
 100% Vegan and Halal.
 Aromatherapy | Long-lasting | All-natural | All-purpose
 Each bar is at least 3.5 ounces.
Directions:
Wet, lather, rinse. Repeat as necessary.
Ingredients:
Water (Aqua), Organic sustainable palm (Elaeis guineensis) oil, Organic coconut (Cocos nucifera) oil, Olive (Olea europaea) oil, Sodium hydroxide (lye), USP castor (Ricinus communis) oil, Almond (Prunus dulcis) oil, Stearic acid (plant-based), Clove (Eugenia caryophyllata) essential oil, Organic gluten-free colloidal oatmeal (Avena sativa), Cardamom (Elettaria cardamomum).