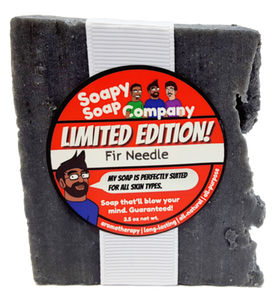 Limited Edition - Replenish! - Fir Needle Bar Soap (vegan, halal)
This soap is a perfect stocking-stuffer: a lump of coal that anyone would be excited to get! This soap combines the fresh scent of an evergreen forest with the gentle cleansing benefits of activated charcoal. Suitable for all skin types, this citrus-y concoction is bubbly, aromatic, and mildly exfoliating.
 100% Vegan and Halal.
 Aromatherapy | Long-lasting | All-natural | All-purpose
 Each bar is at least 3.5 ounces.
 Directions: Wet, lather, rinse. Repeat as necessary.
Ingredients: Water (Aqua), Organic palm (Elaeis guineensis) oil, Organic coconut (Cocos nucifera) oil, Sodium hydroxide (lye), USP castor (Ricinus communis) oil, Organic canola (Brassica napus) oil, Fir Needle essential oil, Activated charcoal.