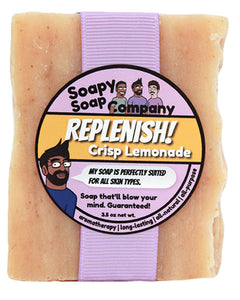 REPLENISH! - Crisp Lemonade Bar Soap (vegan, halal)
Recharge your spirit and smooth your skin with Mohammed A.'s Replenish! - Crisp Lemonade Bar Soap. Suitable for all skin types, this citrus-y concoction is bubbly, aromatic, and mildly exfoliating.

A great way to start your day or cool down after a hard workout, Replenish! - Crisp Lemonade Bar Soap is every bit as refreshing as just-squeezed lemonade garnished with a wedge of lime and a sprig of garden mint.

100% Vegan and Halal.
Aromatherapy | Long-lasting | All-natural | All-purpose
Each bar is at least 3.5 ounces.
Manufacturer : Soapy Soap Company
Ingredients: Water (Aqua), Organic palm (Elaeis guineensis) oil, Organic coconut (Cocos nucifera) oil, Sodium hydroxide (lye), USP castor (Ricinus communis) oil, Organic canola (Brassica napus) oil; Essential oils of lime (Citrus aurantifolia), spearmint (Mentha spicata), litsea (Litsea cubeba); Organic, gluten-free colloidal oatmeal (Avena sativa).